To all who have arrived here, welcome. One of the most interesting trends emerging right now is the "Covid Home Educator." Millions of you are embarking on a new choice of adventure in parenting. For those of us who have homeschooled for many years, we can attest that home educating our children can be one of the most rewarding aspects of parenting. Being there to see the magical spark that accompanies true reading or standing over the mess of pots and pans in the kitchen after a science experiment ranks up there with the other "firsts" of parenting. Know that those of us who have gone before you have partially paved the way and for the most part, you'll find us a truly helpful bunch. But, remember, YOUR family and YOUR journey will be YOURS so feel free and confident to strike out on your own despite the negatives of Covid-19, and make this unusual time in our history work to your and your child's advantage.

What? I'm hearing some of you say that you were brought unwillingly into this sphere….a deadly virus forced you to consider something you've never seen yourself doing before? Or, on the other side, some of you have been teetering on the brink of taking a swan dive into the unknown and homeschooling your child because the school system isn't exactly what you thought it would be and doesn't resemble the warm, fuzzy feeling you had when you went to school? You've been waiting for a "sign?" Here it is!
*First of all, consider whether you're truly homeschooling. Temporary non-traditional instruction only because of health concerns is not truly homeschooling. If you want the ability to choose your child's curriculum and areas of emphasis in study, you'll need to truly pursue homeschooling. There are countless websites that will guide you through your state's requirements and legal expectations. Be sure to avail yourself of the plethora of choices. If you're involved in short- term non-traditional instruction though your public school, you can expect a great deal of guidance as you navigate the uncertain waters. They should provide communication, a huge safety net, and flexibility for you and your family.
*Second, if you are going to take the plunge and homeschool, the first independent step you must make (after taking care of the legal requirements per your state) is to choose a curriculum. You can buy entire pre-packaged paper and pencil curriculums. You can find total online schools where your student can sit in front of a computer for 6 hours a day. Or….you can pick and choose what is truly best for your situation and tailor different kinds and methods of curriculum in a hybrid approach that meets your support needs as a homeschool teacher and your child's needs and learning styles.

*Third, embrace that this is going to be an adjustment that cannot be evaluated in a couple of weeks or months. You'll need to be patient with both your student and yourself as you navigate these uncertain waters. Even if the school provides some framework, everything from your daily schedule to work location in your home needs to be reevaluated and discussed. Is it better to always be at your kitchen table? What subjects should be done first? Do we have and are competent with all the technology needed to do this? Who are the best people in my circle of family/friends to help with this task?

*Fourth, get help from experts when you need it and be creative with your plan. If you are still enrolled in a public or private school they should provide some help. Either way, it is your job to get the help your child needs if you can see they are struggling in a subject. As I write this article, I am researching many hybrids that are evolving from need in the 2020 Covid-19 world in which we live. The need to be safe and healthy is in some cases, juxtaposed with the parents' need to return to work. Many families are developing homeschool P.O.D.S. (Parent Organized Discovery Sites) where families trade days hosting children in their home while furthering academic studies. While some parents may trade teaching duties, others just provide a safe environment for their kids to do individually assigned work. While this may work for some, others may want to retain their autonomy and influence with their children. In the case of core subjects, it is extremely important to assess strengths and weaknesses of each of your children, and address those in the best way possible. This is where experts may be of service. English teachers/tutors or Math teachers/tutors who've taught for many years and are qualified to make these determinations are available at an additional cost. Remember as you are researching these, that a great recommendation from other families is probably your best deciding factor. Also remember the old adage, "You get what you pay for." Many of us have paid at least $15 per hour for babysitting or child care, but may balk at the cost of a live online class with a live teacher who answers questions in real time and live students who interact in the same class. Private tutoring is another option you may need to consider. In today's world, the best tutor or small group instructor for your family may not need to be in your city. Since we are in the realm of Zoom teaching, you are free to choose your tutor from the very best you can find. They can be in Texas, California, or even in Kentucky! While the cost of private tutoring is greater than a small group, it may be just what you need for a period of time to enhance your child's education.

*Lastly, know that every moment you spend considering, planning, and implementing your child's education is worth it! It will come back to you many fold when they are successful in college or whatever realm they choose to head toward. They will remember funny and exasperating days as my girls do, and they will also remember the time you spent in focusing them toward their future. With the wealth of supportive information available online and through homeschool groups, the choices are endless. Be sure to do as much research as possible, but… in the end, when you homeschool, you're the boss. Changes can always be made to provide a better experience for your student. The best advice I ever heard about homeschooling was, "Consider one year at a time. You don't have to decide for the entire education of your child. You only need to decide what is working right now for this year. Each year you can decide again." With Covid-19, you only need to make decisions for the time you feel uncomfortable. Remember, we only have basically 12 years to educate our children for the entirety of their life. We all want to do the very best we can. Again, welcome to this world!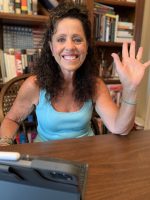 Linda Cretella Jones is the founder of BeAMathSuccess.com and has taught for over 41 years. Since the Covid-19 pandemic, she has added "Zoom Teacher" to her resume in addition to tutoring/teaching individual, small group, and classroom public, private and homeschool students. Linda successfully homeschooled her two adult daughters, Rebecca and Natalie Helm for their entire pre-college education. She residues in Kentucky with her husband, Bryan, and their two Corgis, Stella, and Oliver.